"The MSA exceeded my expectations!  I was able to complete the program within three semesters and at the conclusion, I felt fully prepared and ready to begin my position in public accounting with PricewaterhouseCoopers." – Lauren Consoli, MS in Accounting graduate, UConn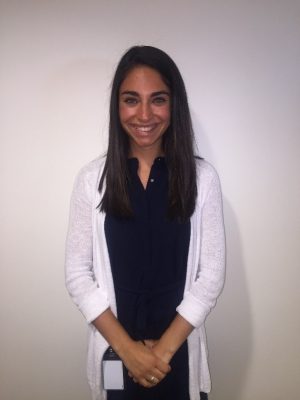 For Lauren Consoli, earning her MSA from UConn exceeded all of her expectations.
On the Fast Track to Success
Lauren Consoli had a really great reason for wanting to earn a Masters in Accounting (MSA) right after she graduated from the University of Connecticut (UConn) in May 2017. "Like most people who major in Accounting, I graduated with 120 credits from UConn.  In order to pursue CPA licensure, you need an additional 30 credits," says Lauren, who was hired right out of college as a Core Assurance Associate with PricewaterhouseCoopers (PwC) in Hartford, which she deferred for a year so she could get her MSA. "PwC expects you to become a CPA within three years on the job. Quite frankly, you cannot get promoted to the next level without being a CPA. sure, I probably could have taken the courses I needed at our local community college, but I really wanted to earn an MSA."
Preparation for the CPA exam
And that's exactly what Lauren did.  She earned her MSA from UConn one year after earning her undergraduate degree.  "The courses were terrific. UConn really gears them to help prepare you to take the CPA exam." For example, she says, "UConn highlights which sections various courses are geared to.  I took an audit course and recently passed one section of the CPA exam on this topic.  I also took two tax classes and a business law class, which covered a majority of the content that is tested on the Regulations CPA exam.
Current day issues
Lauren especially appreciated her instructors. "All of my professors were very willing to help me. They checked in on us frequently to see how we were doing and if we needed any additional assistance. I also loved how the curriculum was built around current issues in accounting. There were very few textbooks—instead, we were provided a lot of articles and case studies that were relevant to things going on today, like the latest tax reform legislation. I not only gained knowledge and valuable insight into the accounting industry, but I also strengthened my ability to analyze current accounting issues and to work within virtual groups."
Multi-tasking
During the year she earned her MSA, Lauren also worked part-time. The fact that the program is online was a huge benefit, she says. "The best part of participating in the MSA program was the flexibility of the online format. Since there are no set times to 'attend class,' I was able to study for the CPA exams, work part-time, and travel. One of my favorite things is to spend my summers in Narragansett, RI with my family, and I was able to do just that."
So has Lauren had the opportunity to use her new knowledge and skills now that she's working full time for PwC?  Absolutely, she says! "I'm now an auditor for PwC and travel around Connecticut to various client locations. In the audit course I took, we did an audit simulation. It provided a fantastic preview of just the kinds of situations I'm running into now with my job. It seems like every day, I draw upon the knowledge I learned in the MSA program."
In conclusion, she says: "The MSA exceeded my expectations!  I was able to complete the program within three semesters and at the conclusion, I felt fully prepared and ready to begin my position in public accounting with PwC. I would recommend the MSA program to anyone who wants to go for a Masters in Accounting, from recent graduates to professionals who are looking to advance their careers or to make a career change altogether."